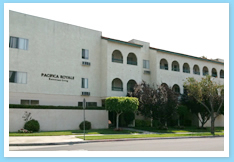 Pacifica Royale Assisted
Living Community
15022 Pacific St.
Midway City, California 92655

Phone:
(714) 892-4446
(714) 892-4447
Email:
pacificaroyale@yahoo.com
Fax:
(714) 892-1576
Welcome to
Pacifica Royale Assisted Living Community
Located only a few miles from the beach, shopping mall, local medical centers, local parks and walking trails,

Pacifica Royale Assisted Living Community

is ideally situated between Westminster and Huntington Beach in Orange County. This beautiful three-story building offers a spacious TV lounge, complete with a wide-screen TV, a game room, a beauty shop, visitor and resident parking, and outdoor patios.
It is no ordinary home. Staying here is like being in a vacation spree. Every day is an event filled by various activities. You can hardly find yourself alone and thinking about tomorrow. We give you a chance of reliving past moments and making up of wasted time. While you indulge in individual interests, we concern ourselves of maintaining your healthy mind and body in a safe setting.
We are not a nursing home. We help you keep your independence while you receive assistance in daily living. You have the aid that you need within the facility. Privacy is highly respected by the staff and will only be with you when you call out. Coming to our home is about keeping your needs close by. Everything else remains the same.
Those who come to our home are mostly elderly individuals who can't manage to live on their own, but doesn't require skilled medical care. Some of our residents suffer from mobility, incontinence and other challenges. Many would resort moving in to our home after staying in a nursing facility or hospitalization.
In our assisted living facility, you get to know other residents who want to take charge of their lives. You will also establish friendship with our staff. As this relationship strengthens, we will know more about your preferences so we can also incorporate activities which are beneficial for you.
We have many rooms for you to choose from. They differ in size from one to the other. We also have a large dining area, common areas for social and recreational activities. Our residents are satisfied with the convenience and ease in doing their daily rituals.
Call now to schedule a full tour. Or just drop by...walk-ins are always welcome. You can even have lunch with us and sample our excellent meals and entrees. You can reach us through - (714) 892-4446.